We are so excited to announce our new workshop! We've been sorting out our schedule to find a way to teach a class, and it's finally here! Hope we all see you there. It'll be a fun and creative way to spend your saturday.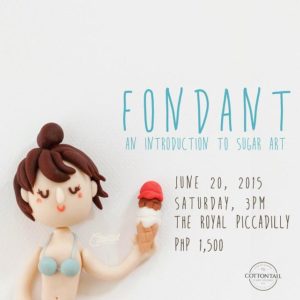 Fondant: An Introduction to Sugar Art
June 20, 2015
The Royal Piccadilly
3:00 – 6:00pm
By Cottontail Cake Studio
This 3 hour class is an introduction to fondant. Perfect for beginners, this class lets you explore the medium: the proper way of moulding, colouring, and sculpting.
There will be tutorials on how to make characters, animals, and other details the Cottontail Cake Studio way.
We will also be teaching you on how to pipe cupcakes you can take home, and how to properly place your toppers on them.
We will be providing mats, rolling pins, cutters sculpting tools and other necessary materials for the class, but the materials you can take home are the following:
Fondant
Food Color
2 Cupcakes
Tutorial sheets
Light snack and drinks will be provided.
Hope to see you there! 🙂
Class fee: Php 1,500
Go to our WORKSHOPS page to register. Just simply select "Fondant: An Introduction to Sugar Art" for the workshop you'd like to join! 🙂